Quick View
Torchbearers for British guitar music, The Vaccines - Justin Young (lead vocals, guitars), Árni Árnason (bass, vocals), Timothy Lanham (guitars, keys, vocals) and Yoann Intonti (drums) - are back with their sixth studio album Pick-Up Full of Pink Carnations. The title comes from a misremembered lyric from Don McClean's "American Pie," a song that for Young fittingly evokes the death of innocence and the American Dream. After he moved to Los Angeles - a city the band has grown up being captivated by - he was forced to wrestle with the disillusionment that comes when expectations, dreams, and reality don't quite meet. Yet, though Pick-Up Full of Pink Carnations is an album about reconciling with loss, it's also filled with gratitude for the people and places we once loved.

"Pink carnations symbolise gratitude and tell a person they'll never be forgotten," says Young. "So whether it's the loss of a lover, or a friend, or even just a dream, the record is a reminder that they'll live on in whatever capacity the mind allows them to. And it's a reminder to keep on dreaming."

Produced by Andrew Wells (Halsey, Phoebe Bridgers) with Mixing from Dave Fridmann (Tame Impala, The Flaming Lips), Pick-Up Full of Pink Carnations is an immediately anthemic addition to the band's discography. With a mammoth five UK Top 5 albums – including a Number 1 with 2012's Come of Age – and a fierce live reputation forged through arena-filling headline shows and unforgettable slots at Glastonbury and Reading/Leeds, The Vaccines continue to be a vital band in the British rock canon.
Quick View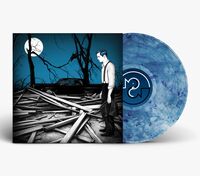 Fear of the Dawn is the fourth studio album from Jack White, founding member of The White Stripes, The Raconteurs, and The Dead Weather. True to his DIY roots, this record was recorded at White's Third Man Studio throughout 2021, mastered by Third Man Mastering, pressed to vinyl at Third Man Pressing, and released by Third Man Records. Pressed on limited astronomical blue vinyl, only available at independent record stores
Quick View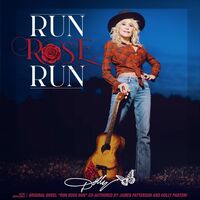 Country/Bluegrass album, Run, Rose, Run that will be released along with a novel co-written with the famed author, James Patterson, sharing the title Run Rose Run. The 12 songs were inspired by the book storyline and feature Country and Bluegrass artists; Joe Nichols, Rhonda Vincent, The Issacs, and Dailey & Vincent. Dolly & James will be doing book and album promotions together - presenting a unique co-marketing opportunity.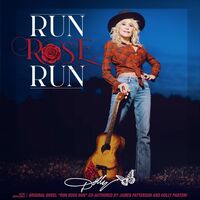 Quick View
Michael Buble's 2022 album Higher catapults the star's enormous talent into the stratosphere as he continues his ongoing journey reinventing and interpreting the music of America's most beloved standards amongst others. Fitting perfectly throughout these gems are a handful of Buble' originals that further cement his gift for writing and performing great pop tunes and luscious ballads. An irresistible and uplifting collection from the ultimate romantic once again reminds us that the thrill of exploring the subject of love and romance continues inspiring this artist and the world. The definitive Buble' masterpiece for sure.
Quick View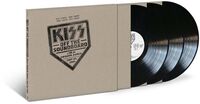 March 2022, rock icons KISS will release the next installment of their Off The Soundboard official live bootleg series with KISS - Off The Soundboard: Live In Virginia Beach, recorded live at the Virginia Beach Amphitheatre on July 25, 2004.
Off The Soundboard: Live In Virginia Beach finds the legendary band in the midst of their `Rock The Nation' Tour, which is notable for being the first full U.S. tour of the longstanding Paul Stanley, Gene Simmons, Tommy Thayer, and Eric Singer lineup. The career-spanning 20-song set includes classic KISS tracks such as "Lick It Up," "I Love It Loud," and the worldwide smash and No. 11 1979 U.S. Billboard charting "I Was Made For Lovin' You," as well as perennial KISS fan favorites "Makin' Love," "King Of The Night Time World," and "100,000 Years" that dig deep into the band's astonishing 40+ year back catalog.
KISS are globally recognized as one of the greatest live bands of all time and are the creators of what is universally considered the best live album ever, 1975's gold-certified and No. 9 Billboard charting Alive!. The KISS - Off The Soundboard series continues their storied legacy of groundbreaking live albums with a document of the spectacular, larger-than-life extravaganza that is a KISS concert.
KISS OFF THE SOUNDBOARD: LIVE IN VIRGINIA BEACH 3 X LP
Quick View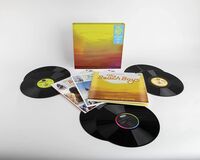 Originally released in 2003 with 30 tracks, UMe has updated the classic Sounds Of Summer compilation by The Beach Boys. The Expanded Edition 6 LP set features 80 key tracks from their storied career (all newly remastered) with 24 new stereo mixes, including two first-time stereo mixes. Limited pressing on 180-gram vinyl with updated photos and liner notes.
Quick View
Meet the Moonlight, Jack Johnson's eighth studio album and first full-length release in five years, was produced by Blake Mills and recorded in Los Angeles and Hawaii. The creation process marks a major artistic milestone from past work, taking shape from a one-on-one collaboration with Mills, and unveiling an intimate and highly experimental process that involved embedding Johnson's elegantly stripped-back arrangements with enchanting sonic details. Indie Exclusive Silver LP on 180-gram vinyl.
Quick View
Norah Jones' seminal debut album, Come Away With Me, became a global phenomenon reaching #1 in 20 countries, selling nearly 30 million copies, and sweeping the 2003 GRAMMY Awards with 8 wins including Album of the Year, Record of the Year, Song of the Year, and Best New Artist. The remastered 20th Anniversary Edition captures the emergence of a singular talent on this now-classic album.
Quick View
WE is the new album from Canadian rock band Arcade Fire. This is the sixth Arcade Fire studio album, and is made up of seven songs that speak to this moment with unique directness. Written, recorded, and released during a critical historical juncture, they are divided into two distinct sides, "I" and "WE." If the "I" side of the record evokes and embodies our holed-up anxiety and lack of physical connection, the "WE" side captures the excitement of new possibilities and the elevating thrill of committing to one another socially and personally. Produced by Nigel Godrich, Win Butler & Régine Chassagne, WE is a 40 minute epic as much about the forces that threaten to pull us away from the people we love, as it is inspired by the urgent need to overcome them.
Quick View
Vinyl:
$27.98 UNAVAILABLE
MP3 Album: $9.99 Download
Ukulele Songs comprises a fine mixture of original material penned by Vedder that he initially performed live, alongside vintage classics and standards. A recast, uke-driven version of "Can't Keep," which originally appeared as the opening track on Pearl Jam's hard-charging November 2002 album Riot Act, opens the proceedings, while newer-bred original songs like the resigned lament of "Sleeping By Myself," the charming love orbit of "Satellite," the hopeful brightness of "Light Today," and the instrumental interlude "Waving Palms" all set the table for the 35-minute album.
Guest vocalists appear on a pair of key Ukulele tracks, both of them fine covers of notable standards. First, Glen Hansard (The Frames, Once) adds his Irish folk DNA to "Sleepless Nights," which was written by Felice and Boudreaux Bryant and remade by The Everly Brothers in 1960, in addition to later being covered by the likes of Emmylou Harris, Patty Loveless, and Elvis Costello.
Second, Cat Power lends her passionate tone to "Tonight You Belong To Me," a jazz standard written in 1926 by lyricist Billy Rose and composer Lee David. This track has also been subsequently covered by the likes of Frankie Laine, Patience and Prudence, and Dottie West. Versions of "You Belong To Me" were also recently featured in the acclaimed 2019 film drama Blackbird and in an episode of the 2020 HBO horror-drama series Lovecraft Country.
The LP's other noteworthy covers include stirring takes on Billy Rose and Edward Eliscu's "More Than You Know," Michael Edwards and Bud Green's "Once In A While," and the album-closing reading of Fabian Andre, Wilbur Schwandt, and Gus Kahn's "Dream A Little Dream."
Produced by Eddie Vedder and Adam Kasper (Foo Fighters, Soundgarden), Ukulele Songs peaked at No. 4 on the U.S. Billboard 200, hit No. 2 on the U.S. Top Rock Albums on Billboard, and achieved Gold status in Canada.
EDDIE VEDDER / UKULELE SONGS
Quick View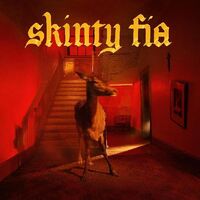 2020's A Hero's Death saw Fontaines D.C. land a #2 album in the UK, receive nominations at the GRAMMYs, BRITs and Ivor Novello Awards, and sell out London's iconic Alexandra Palace. Now the band return with their third record in as many years: Skinty Fia. Used colloquially as an expletive, the title roughly translates from the Irish language into English as 'the damnation of the deer'; the spelling crassly anglicized, and its meaning diluted through generations. Part bittersweet romance, part darkly political triumph - the songs ultimately form a long-distance love letter, one that laments an increasingly privatized culture in danger of going the way of the extinct Irish giant deer.
Quick View
Released in 1965 My Generation was the debut album by The Who. The album peaked at #5 in the UK & launched the band into worldwide acclaim. Containing "My Generation", "The Kids are Alright" & "The Ox" mastered by long time Who engineer Jon Astley from the original tapes. Packaged in original sleeve with obi & certificate of authenticity, this black vinyl version is engineered by Miles Showell at Abbey Road Studios with a half-speed mastering technique which produces a superior vinyl cut.
Quick View
The greatest bassist leader jazz has ever known, Charles Mingus, with his spirited playing and spontaneity, always kept his ears and fingers on the pulse. "Mingus was something else, man," Miles Davis wrote in his own book. "A pure genius, I loved him."-This year marks the birth centenary of Charles Mingus, whose musical legacy is still ongoing. From artists like Kamasi Washington bringing him to a new generation, Chrissie Hynde, whose latest album includes a Mingus cover, Candace Springs, Elvis Costello, to Gang Starr sampling him, and Joni Mitchell writing lyrics to his music. -Originally released in 1957 on the Jubilee label, Mingus Three is one of only two albums led by Mingus in a trio setting, featuring pianist Hampton Hawes and drummer Dannie Richmond. This remastered release includes a whole extra disc of previously unreleased outtakes, discovered by chance, from these sessions, as well as liner notes by Charles Mingus' friend and colleague Sy Johnson.
Stephen Marley - Old Soul - Island / Tuff Gong
Stephen Marley is one of the most respected artists in reggae and pop, with eight GRAMMY® Awards from his career as a solo artist, as a producer and as a member of his family band, Ziggy Marley & The Melody Makers. His brand-new album, Old Soul, is his fifth, and is releasing on UMe in partnership with the Marley Family, Tuff Gong and Ghetto Youth International. It's Stephen stretching himself as a singer and songwriter, bringing along some special guests in a wide range of material beyond the reggae category. Among its 14 tracks is the title song, released as a single on Stephen's fortuitous birthday, 4/20 – which also got a lyric video on Father's Day Weekend – plus "Winding Roads," a collaboration with Jack Johnson and the Grateful Dead's Bob Weir; a new version of his father's song, "I Shot the Sheriff," with Eric Clapton, who made the song globally famous, on guitar; two songs with his brothers; and unique covers of the traditional pop songs, "Georgia On My Mind" and "These Foolish Things," both transformed into modern ska singalongs.



Neil Young - Before and After - Reprise



Michael Franti & Spearhead - Big Big Love - Boo Boo Wax



Read More
---
---